Gov. Tim Walz, a native Nebraskan, would like you to believe it is.
…
We Launched a Statewide Investigation.
…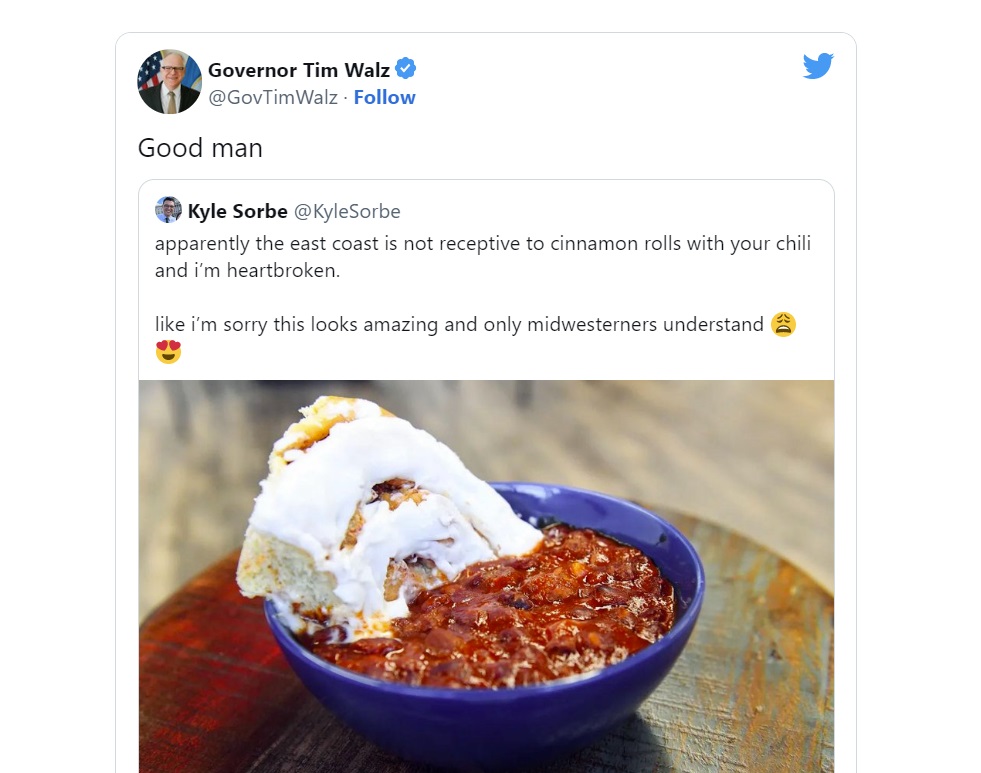 Where were you when Grape Salad happened?
RacketMN: Every Minnesota to never touch the stuff (i.e. all of them) remembers that moment of culinary-cultural infamy, when the sicko coastal elites at the New York Times attempted to shoehorn a WTF dish into our canon of treasured local foodstuffs.
…
Gov. Tim Walz sparked a similar flashpoint Tuesday on Twitter.
…
Walz's apparent co-sign of this alleged Midwestern delicacy was met with a resounding chorus of: HUH? The author of this blog, a 35-year Minnesota lifer? Never heard of it. Ditto for my dad, also a noted townie.
The original poster—Brookings, South Dakota-born Kyle Sorbe, a PR man for Minnesota Sen. Tina Smith—was undeterred by naysayers, citing evidence of the dish's regional prowess from Smithsonian Magazine ("What's Up With the Pairing of Chili and Cinnamon Rolls?") and The Argus Leader ("Why chili and sweet rolls? How this school lunch became a South Dakota food favorite").
"School lunch programs across the Midwest and Great Plains started serving chili alongside cinnamon rolls in the mid-1900s," writes Makenzie Huber of The Argus Leader in her definitive historical deep-dive. "It is unknown why the two meals were commonly paired together, but it was a hit."
Huber includes references to South Dakota, Iowa, Indiana, Idaho, Colorado, Texas, and Nebraska but, conspicuously, not Minnesota. Gov. Walz, a Nebraska native, didn't move to Minnesota until the mid-'90s, perhaps explaining his fandom. Not expecting to hear back, we requested a comment from the Walz administration. Hours later, the governor's press secretary, Claire Lancaster, responded with: "This is important!" And before long we were on the phone with the big man himself, demanding answers about the chili/cinnamon roll foofaraw.
"I'm laying the law down on this chili thing: Every single week of public school—as a student and as a teacher—each Friday the lunch ladies made chili and cinnamon rolls, the most anticipated meal of the week. It's a Midwestern tradition, but what I'm finding is there are some sections of the Midwest where people aren't as in-tune to the cuisine of things; they don't know about this," Walz tells Racket, acknowledging that the dish might be more popular around northeast Nebraska and southwestern Minnesota. "So I'm making the case: Yes, chili and cinnamon rolls, especially on Fridays, is a thing."
Walz dismissed any parallels to Grape Salad and, somewhat out of the blue, referenced his three Minnesota Congressional Delegation Hotdish Competition victories. Throughout our three-minute conversation, the governor sounded like a true chili and cinnamon roll believer.
"This is about expanding your horizons. Minnesotans all bring their culture with them, whether it's lutefisk or whether it's chili with cinnamon rolls; this should bring us together," Walz said, summoning all his rhetorical powers. "You got a good chili cook, you get a cinnamon roll cook… I know Reese's Peanut Butter Cups stole this, but there is a story here to be told about bringing great things together."
The man who brought this debate to the masses, Sorbe, didn't respond to our interview request. But Racket was able to assemble voices from around Minnesota who were willing to speak to this contentious dish. Let's hear what they have to say.
…
Southern Minnesota correspondent Christopher Vondracek
"It is true, I believe our school lunches in Wells, Minnesota, contained this," says the Star Tribune ag reporter and author (who's currently promoting a terrific new book). "I'm all for digging into this, though. Maybe a glance at posted school lunches in, say, Chadron, Nebraska, and schools on the Iron Range!? But as I said, Wells definitely had this. It always struck me as a lunch lady's well-deserved day off."
…
Iron Range correspondent Aaron Brown
"Digging deep into my northern Minnesota cultural memory, I can't place a time I've had or been offered a cinnamon roll with chili," says the Hibbing-based author and educator. "I don't think people here would mind eating them together. It's intriguing. I get it. But cinnamon rolls fall into the breakfast category and chili is lunch/dinner. They just don't hang out together much. If this thing is a religion, I'd say come evangelize on the Range. We'd eat that."
…
Fargo-Moorhead correspondent Leah Garaas
"It's not on the menu at the Sons of Norway," says the Fargo-raised, Bay Area-based social media pro for Roku. (Garaas, a vet of 89.3 the Current and Radio K, was entirely unfamiliar with the dish.)
…
Twin Cities correspondent Jason DeRusha
"I have heard of it but I've never tried it," says the Maple Grove-based radio DJ and food writer. "I'm not opposed—flavor-wise, it shouldn't be that different than a Sloppy Joe on a sweeter burger bun. I can't really envision a scenario where these two foods would be available to me at the same time. School cafeteria? Prison?"
(Update: We heard back from Sorbe on Thursday. "This all started when I made a side comment about it at a meeting and we all got to talking and now we're having a chili cook off in the office with cinnamon rolls [Thursday]," he tells us. "We'll see how it goes and if I can convince a few people that cinnamon rolls belong with chili.")
…
By Jay Boller