…
November 20th thru December 27th
…
Come see America's largest FREE walk-through lighting display.
Bentleyville has free admission for all guests, as well as free hot cocoa & coffee, free
cookies, free freshly popped popcorn, free marshmallows to roast, and free visits with Santa & Mrs. Claus!
There is a charge of $10 per vehicle to park in the Bentleyville lots. Guests are encouraged to bring a nonperishable food item or new unwrapped toy to donate to the Salvation Army for those in need.
…
…
…
About
In 2001, Nathan Bentley first started decorating his home in Esko, MN for the Christmas season. For the next two years he continually added more lights to create a larger holiday light display; his home quickly became known as the "House with all of the lights in Esko." In 2003 Nathan changed his light display from a "drive by" to a "walkthrough" with Santa Claus visiting on weekends.
.
Since Nathan was going overboard a friend sarcastically started to call it Bentleyville (referencing Dr. Seuss's town of Whoville). The name caught on with visitors and in 2003 "Bentleyville Tour of Lights" was born.
.
During the summer of 2004, Nathan and his family moved from Esko, MN to rural Cloquet, MN to a larger home for their 4 children. With the new name of "Bentleyville" came a whole new vision for Nathan. To entice people to drive out into the country a larger and grander Christmas light display was being built. A 78' x 24' high entrance castle made of 45,000 lights was built to greet visitors. Over 500 illuminated snowflakes hung from trees on his wooded property. Dozens of light displays were created and new ones added each year. Live entertainment was added featuring area school groups and community musicians. Fire pits were added for people to gather around and roast marshmallows. Santa Claus was now a permanent guest every night at Bentleyville visiting with children and handing out a free winter hat and bag of cookies to all the young children visiting with Santa.
.
A "Cookie House" was built offering free cookies, coffee and apple cider to everyone visiting Bentleyville. All the walking paths were paved allowing it to be fully handicapped accessible. A Popcorn building was built to hand out free popcorn to the people as they strolled through the light show. A food and toy drive was started to collect items for the Salvation Army in Carlton County.
…
mn made
…
As the popularity of Bentleyville grew quickly so did traffic problems with the very limited parking available on a dead end country dirt road. The neighbors soon began to express their concerns that something needed to be done about the increased traffic congestion. After just two years and an estimated 35,000 people visiting, Nathan decided the only way to solve the traffic concerns was to build parking lots in nearby horse fields owned by area neighbors. Visitors would be bussed in by hiring nine 72 passenger school busses to transport visitors from two parking fields to the entrance of Bentleyville. After just 5 years of hosting Bentleyville at his residences and transporting over 72,000 people by school bus, in 2008 Nathan thought it was a good time to take a year off and reevaluate how everything was working.
.
In the fall of 2008 Nathan received a phone call from Duluth City Mayor Don Ness's Office inviting him to a meeting to discuss an invitation to host Bentleyville Tour of Lights at Bayfront Festival Park in Duluth, MN. Nathan thought the new location would be a good fit for Bentleyville and accepted the one year trial invitation.
.
For the next year planning for the large undertaking of moving Bentleyville to a venue 4 times the size of his residence was underway. Nathan selected a Board of Directors, formed a 501c3 non profit organization, and asked his original Bentleyville team of 25 people to help organize and plan for a Christmas light show in need of over 600 volunteers over 37 days, taking over 10 weeks to set up the massive light show in Bayfront Festival Park.
.
The excitement of Bentleyville moving to Bayfront Park grew and so did the support of area businesses that wanted the light show in Duluth in hopes of drawing people downtown in the cold and snowy months of November and December. On Friday November 27, 2009 Bentleyville Tour of Lights turned on its millions of lights to thousands of onlookers for the first time at Bayfront Park in downtown Duluth. Over 150,000 people visited Bentleyville enjoying the sounds and lights of Christmas.
.
On January 8, 2010 Bentleyville announced that it had made a commitment to return to Bayfront Park for at least the next 3 years.
Bentleyville expanded in those 3 years with new displays adding the 128' animated tree as the center piece of Bentleyville in 2010. In 2011 fresh displays were added like Dino Land, a small gift shop was built in the Family Center, additional lighted tunnels were added, heaters were incorporated into the Santa line, a new home was built for Mrs. Claus and management of the parking lots was turned over to Bentleyville Tour of Lights. In 2012 Santa Claus sky dived into Bentleyville on opening night, Thomas the Tank Engine became a welcome new display, attendance surpassed 206,00 people for the season with over 15,000 friends on Facebook.
.
In December 2012 Bentleyville announced it had an agreement with the City of Duluth to continue to bring America's largest FREE lighting display to Bayfront Park through 2015. Each year adding new light displays and a fresh new look encouraging people of all ages to come visit again and again. 2013 marked the 10th Anniversary of Bentleyville Tour of Lights.
…
Stay In Duluth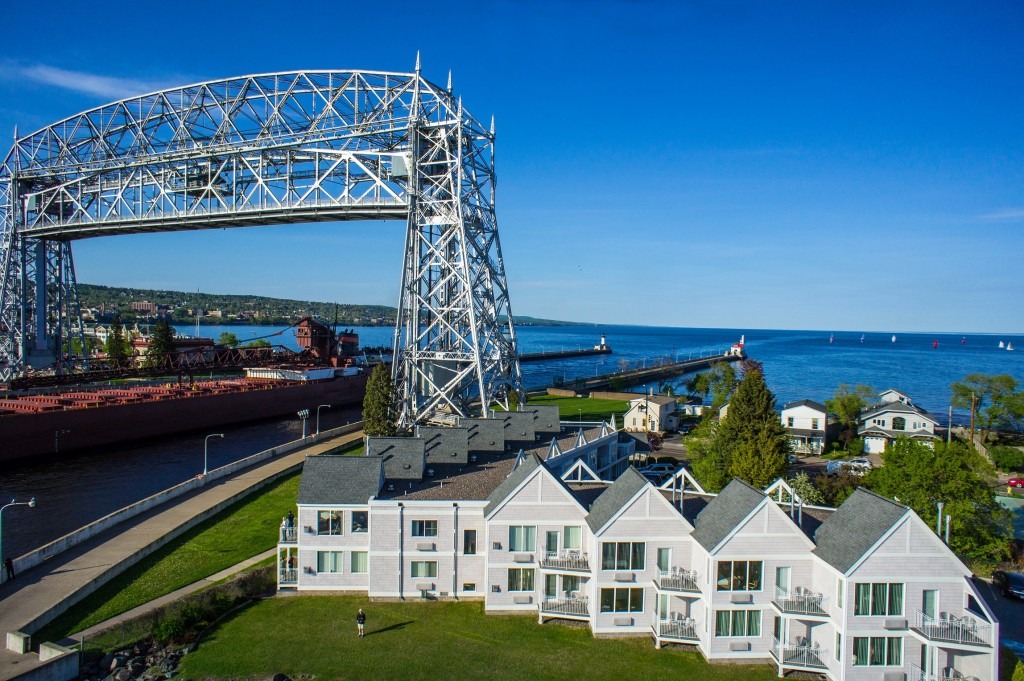 …
South Pier Inn:
Make your plans today to experience this festive holiday tradition on the shores of the world's Greatest Lake!
To celebrate, we are pleased to offer a special weeknight (Sunday-Thursday) discount of 20% off, when you stay two or more nights!
Just use promo code BTLY21 when booking online, or mention the 'Bentleyville Special' if booking over the phone.
…