The Gales of November – November 11th -13th
…
Virtual Event for 2021
…
Gales of November is the LSMMA's premier fundraising event for the
Lake Superior Maritime Visitor Center
. What began almost 30 years ago as a small gathering of divers sharing shipwreck pictures, has grown into a festive two-day educational, networking event.
Due to the increasing numbers of COVID infections and hospitalizations in our region, the board of the Lake Superior Marine Museum Association has opted to cancel its in-person Gales of November.
We will be hosting virtual presentations 3 evenings in mid November and planning a silent auction and raffle.
Tickets are available now at: lsmma.com
In the interim, enjoy these video presentations from 2020:
A Modern Keeper's Tale-Split Rock
Finding the Fitz & Commanding a Lightship
…
The month of November breathes force into Lake Superior each and every year.  For those of us lucky enough to experience the strength of Lake Superior, it marks the time when fall is coming to end, and winter wishes to take over — but the lake fights the change of seasons with all its might. The "Gales of November" occurs when cold, dry air from Northern Canada converges with warm, moist air from the Gulf of Mexico over the Great Lakes. On top of the mixture of air, all of this is stirred up with the warm summer water of the Great Lakes.  The result from this is one of nature's most unpredictable times. Wind speeds can reach over 50 miles per hour, and waves look like something from an angry ocean. Yet, from the shoreline, these storms are treated with respect and awe — witnessing them is an experience that no one should pass up.
The "Gales" of November" got its name from a song by Gordon Lightfoot about the sinking of the Edmund Fitzgerald. The SS Edmund Fitzgerald was an American Great Lakes freighter full of taconite pellets that sank in a Lake Superior storm on November 10, 1975, with the loss of the entire 29 crewmen. Radio transmissions looking for the Fitzgerald or any survivors lasted until 9:30 pm on November 13th, 72 hours after the last communication from the Fitzgerald: "We are holding our own."
Each year, on the anniversary of the wreck of the Edmund Fitzgerald, Split Rock Lighthouse hosts a remembrance event where the lighthouse and fog signal remains on throughout the day, then goes silent for a bit while the names of the lost crew members are read and a ship's bell is rung in their remembrance.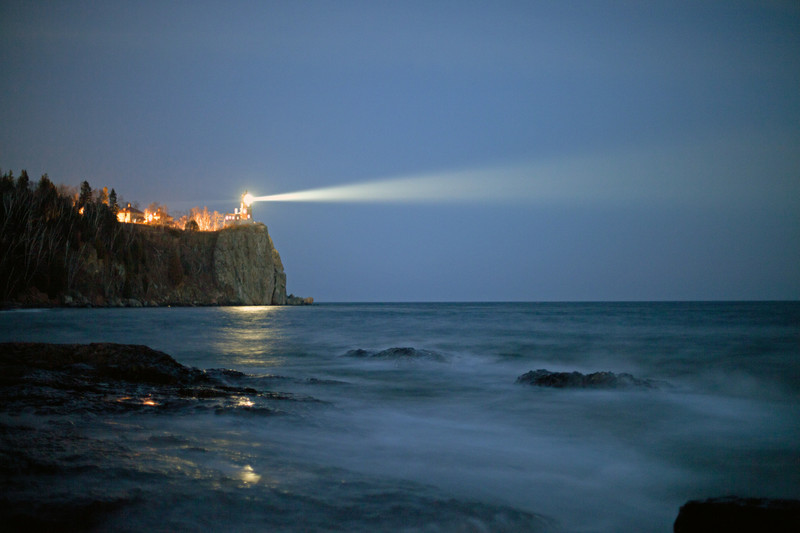 …

When nature puts on a show, you want a front row seat and there is no better place to watch the Gales roll in than from the Bluefin Bay Family of Resorts. When you stay three nights or more during Quiet Time at any of our resorts — Bluefin Bay, Surfside or Temperance Landing — we offer a Gales Special with one night FREE — our treat!
Offer Details:
Stay three nights and receive one night FREE (your midweek night is free)
Offer not valid over Thanksgiving weekend (Nov. 24-28)
Offer is valid Oct. 24 – Nov. 30, 2021
This offer is not valid with any other offer; only one special can be used per reservation
Must be three consecutive nights in the same unit
…