Millennial Mabel stands out from the Upper West Side old guard Charles-Haden Savage (Steve Martin, as a former cop show star) and Oliver Putnam (Martin Short, playing a washed-up Broadway producer) with her bold outerwear.
"We decided that her costumes were going to be a type of armor for her. So we looked at a lot of big coats and heavy treaded boots," says Covarrubias, echoing Charles's and Oliver's discussion as they trail Mabel and Tie Dye Guy from Central Park to Long Island: "We had so many cool boots. So many cool coats."
There's a lot of color and texture, perhaps best epitomized in the cropped look from the premiere. (Covarrubias is somewhat an expert in creating an enviable coat moment: She also treated us to Francesca's striped Isabel Marant topper in season two of "Master of None.") "Some animals will use a really bright color to be like, 'Hey, don't f*ck with me,'" she says. "That was the idea."
Meanwhile, over in Queens, on season two of the hot priest thriller series "Evil," psychologist and mom of four Kristen Bouchard (Katja Herbers) is pushed to her limit at the neighborhood grocery store by a douchebag line-cutter. Layered up in a cropped biker jacket with faux shearling trim, she responds by introducing a bag of frozen french fries to the man-splainer's face — while her consistently unsupportive husband looks on in shock.
"I wanted her to look super tough and super modern," says Dan Lawson, about selecting the rugged French Connection piece (below). "That was also to contrast with her husband, who didn't look threatening — or tough."
The costume designer is accustomed to dressing his Chicago-set (but N.Y.C.-filmed) casts of "The Good Wife" and "The Good Fight" in suitably chic layers, and relies on statement coats to express often conflicting layers (sorry) of personality and intentions.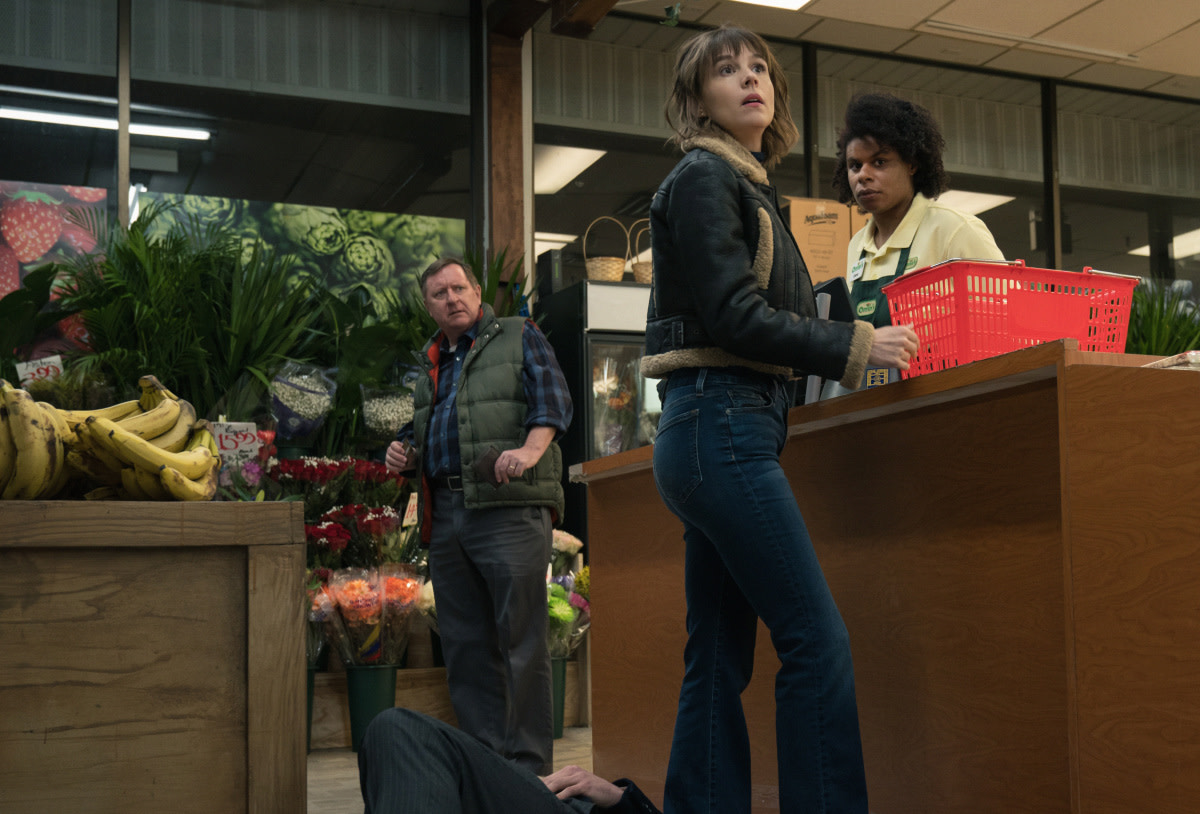 Matching her pragmatic and responsible nature, Kristen usually wears polished, neutral wool coats, while her free-spirited mother (and cool grandma), Sheryl (Christine Lahti, below) stirs up trouble in sleek leather jackets and amped-up motos.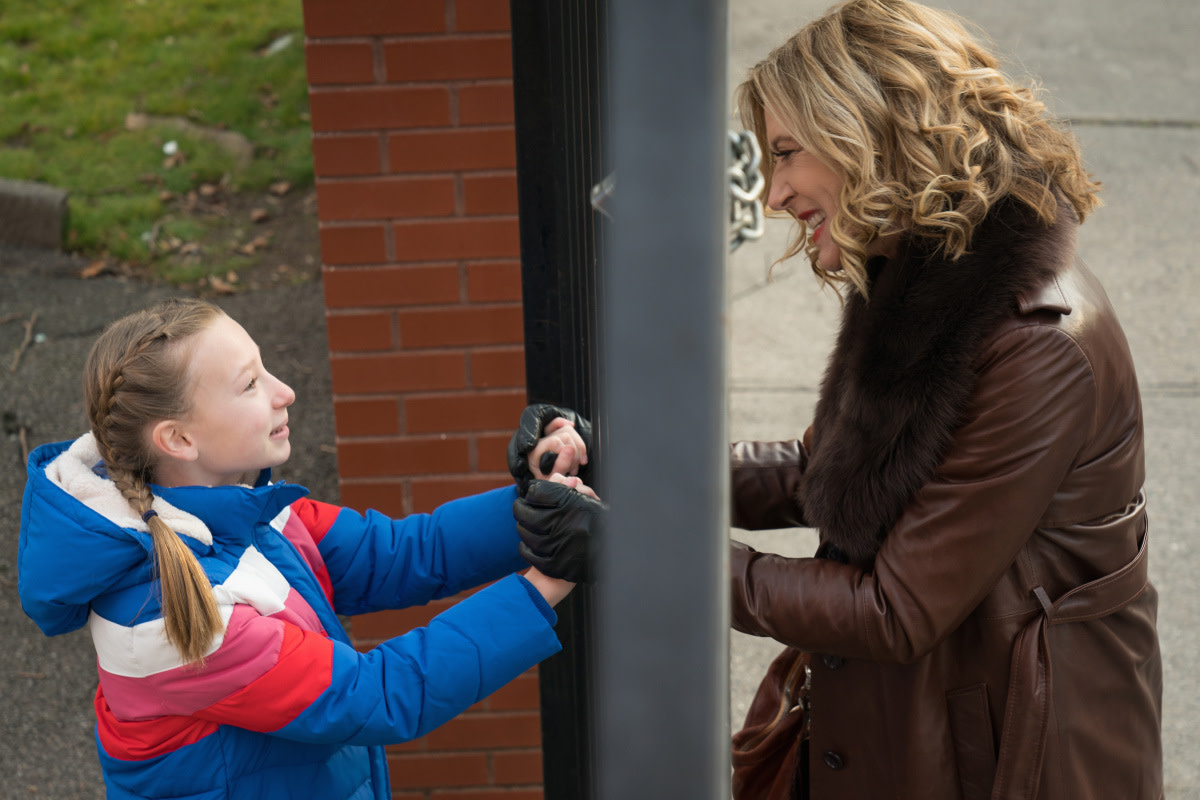 A notable coat can also serve as a flex — case in point: Nora (Awkwafina)'s literal dream puffer in the premiere of "Awkwafina is Nora From Queens."
Before Grandma (Lori Tan Chinn) shakes her awake, Nora, deep in REM sleep, visualizes herself on a brisk walk in the park with old friend and cutie Daniel (Jaboukie Young-White), wearing a vibrant puffy coat from Farm Rio (below). The contrasting floral and chevron prints, plus mix of nylon and fleece panels, speak to Nora's excitable nature and innate creativity. But, ultimately, it "heightens Nora's personality with the idea that she now has money," says costume designer Staci Greenbaum. "We want to go with something that felt really right and outlandish, but that above what Nora's typical price point would be."
Unlike a classic New York City black or neutral-hued coat, Nora's puffer has a very specific and showboat-y mix of patterns and textures, in a way that intentionally doesn't go with everything, furthering the power play. Plus, the association with a statement coat can help one create a lasting impression — and leave a legacy.
"Think of all the iconic characters, like in 'The Matrix.' Coats just make you look badass," says Salvador Perez, the mastermind behind all of Mindy Kaling's colorful — while not very N.Y.C. — dress coats in her Manhattan-set, Los Angeles-filmed "The Mindy Project."
Plus, outerwear is the initial step in making a strong first impression. "The coat is the very first thing you see [on a person]. Somebody enters your house, what do they have on? They have their coat," says Lawson, emphasizing three seasons of coat-requiring weather on the East Coast. "It's a coat-a-thon. There are episodes where everybody's in coats the whole time."
With Covid-19 protocols in place as filming picked back up last fall, the proliferation of outerwear on-screen actually reflects real life: Similar to our pivots to park hangs and outdoor dining, shows now film more scenes out in the elements, so costume designers needed to factor functionality and warmth into their storytelling.
"It was freezing when we were shooting," says Covarrubias of Mabel's "priceless" wool coat. "We wanted to make sure [Gomez] was nice and cozy, so we tried to get a coat that would be really warm."
Lawson recalls that absolutely terrifying "E is for Elevator" episode of "Evil," which included a ghost tour guide wearing a long wool cape: "People were in the coats the whole time, so they really had to be warm and look cool and interesting."
In addition to buying second-hand, upcycling is a way to create a one-of-a-kind statement jacket, while practicing sustainability. In season two of "Never Have I Ever," Devi (Maitreyi Ramakrishnan) attempts to right a wrong by making herself vulnerable and asking Paxton (Darren Barnet) to the big dance. She approaches his locker in a jean jacket covered in symbolic pins and patches, including an eye for good luck, a dagger (because Devi will Devi) and a bedazzled heart worn literally on her sleeve.
"I wanted it to be a unique piece that maybe Devi made herself. She didn't go out and buy it. She puts it together herself," says Perez, who sourced patches and embellishments from the Los Angeles Garment District to customize a Levi's jacket. "I wanted her to be bold and stand out and feel confident in that scene." Because what's more self-expressive and empowering than wearing something no one else has?
"It's less about fashion and more about psychology," says Covarrubias, who has an impressive and ever-growing outerwear collection of her own. "We're about dressing for how you feel."
…
Click through the gallery for a few statement coats inspired by our favorite T.V. characters: