Minnetonka Drive-In: Revisit childhood memories as you order and have your food delivered by a "carhop". Own or appreciate classic cars? Stop by on Thursday nights for an awesome show of auto memorabilia. ​Located just steps from the Dakota Trail, bike or walk to the Drive In and enjoy your food at our picnic area.
"We use only the best ingredients that keep customers coming back again and again!"
…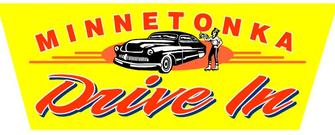 Rockin' around the clock since 1961! Restaurant is open March through the end of September. October through December are pumpkins and fall sales and spruce tops, winter greens and Christmas trees.
…
With the American dream of running their own business, in 1961, Gordon and Jeanette Bennyhoff and 8 children opened the Minnetonka Drive In. It takes an entire family to run a family business and we still operate that way today. Current owner is son Dave Bennyhoff who started at age 9, washing the glass gallon jugs for root beer.
…
Our secret? It's not one, admittedly. The best ingredients is a big part.  Turns out we also like people, though.  We want you to feel the family atmosphere when you stop in to eat or have a homemade root beer float on a hot day.