A new restaurant by James Beard Finalist Chef Jorge Guzmán and Travis Serbus.
–
These are the gentleman that would love to cook your Holiday/Christmas dinner and make you a cocktail kit or two! Don't let this photo fool you, they aren't models, but they are wizards in the kitchen and behind the bar. They also just want to say thank you for all the unbelievable support and love that has been shown to them
@petiteleonmpls.
–
So hit the link for details (menu below too) and trust in these guys to get the tastiest of meals put together so you and your family have time to relax and enjoy your time together.
–
P.S. None of them are related, but we're not 100% sure?
–
Happy Holidays Everyone!!!
Chef Jorge Guzmán's sampling of roasted Beets pop with color, featuring a flavorful combination of pilpelchuma, yogurt, macadamia nuts, and quinoa.
Take-Away Holiday/Christmas Dinner
Sit back, relax and don't worry about cooking this holiday season and let us feed the family!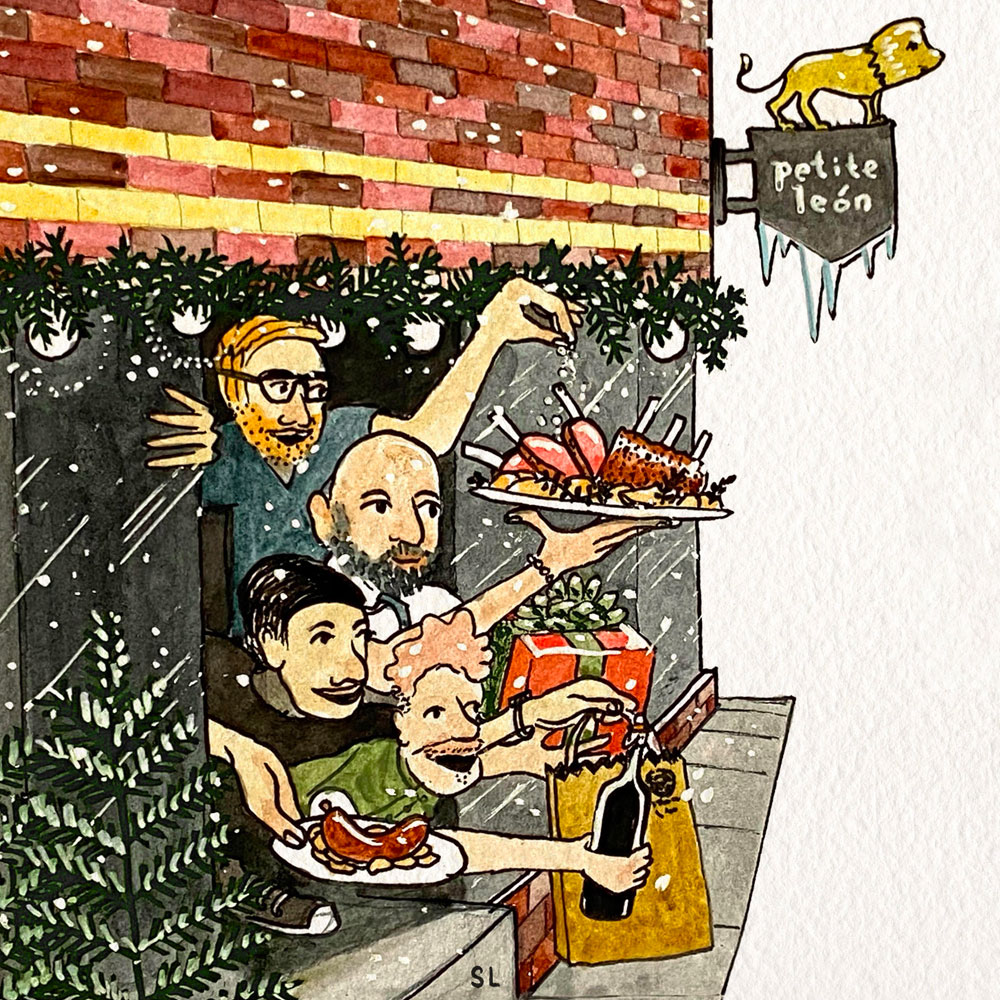 $185 + service charge (feeds 4-6, limited quantities available)
Menu item
Price
The Beef

These aren't your grandmas short-ribs… you'll be getting 2lb's of beef short-ribs that have been slowly braised in our birria sauce consisting of warm spices and Mexican chilies. You will definitely not be needing a knife for these babies; they are spoon tender

The Snacks

Bermuda Onion Dip (gf) (veg) put this on everything, your toast, bagels, that smoked salmon you're getting or just a spoon… it's that damn tasty

Hot Smoked Salmon (gf)

 cured and gently smoked organic wild salmon with capers, thin shaved onions and an everything bagel spice

Lemon Pepper Salami Bites (gf)

 yeah we know, sounds weird but its delicious. Salami meets creamy white beans in vinegar… put it on a toasted baguette and enjoy

Foie Gras Mousse (gf)

 we use the best foie gras in the country and it just so happens to be in our neck of the woods, in Caledonia MN.

Patissier 46 Baguette (veg)

 our friends down the street have this amazing baguette, we thought you should have it for all those snacks. Make crostini or just toast it and spread some of that onion dip all over it.

The Sides

Roasted Carrots (gf) (v)

 roasted carrots tossed in our earthy salsa macha sauce

Birria Gravy (gf) (veg)

 in case you need to add more to your short-ribs or pureed potatoes

Garlic Mushrooms (gf) (veg)

 butter, garlic, olive oil and fresh herbs

Pureed Potatoes (gf) (veg)

 silky pureed potatoes with butter, cream, sea salt and a touch of crème fraiche

Le Petite Haricot Vert Hot Dish (gf without crispy topping) (veg)

 creamy chipotle gravy mixed with green beans and crispy onions, no table is complete without a casserole during the holiday

Pull Apart Rolls (veg)

 a dozen pull apart rolls, you know, in case you need to make a sandwich or sop up that delicious birria gravy

The Dessert

Deep Dish Apple Pie (veg)

 a holiday classic, because sometimes you just want to end the meal feeling nostalgic
Questions?
You can reach us at lara@petiteleonmpls.com.
Nothing is more important to us than the health of our customers and our community. Please gather responsibly for the holidays this year—these meals are intended to be shared with your immediate family and your existing COVID "bubbles."
Pick up December 23rd between the times of 12-5pm at Petite Leon