Edmund Fitzgerald Memorial Beacon Lighting
…
The lighthouse, fog signal building, and visitor center will be open. Costumed interpreters will greet visitors and provide historic site and shipwreck information. Throughout the afternoon, visitors can view a film about the Edmund Fitzgerald in the visitor center.
At 4:30 pm, the lighthouse will close temporarily while the names of the crew members are read to the tolling of a ship's bell. Following the ceremony, the beacon will be lit, and the tower will be open again to tour.
…
…
Beacon Lighting
For nearly 60 years, the light flashed each night at 10-second intervals across more than 20 miles of Lake Superior's navigable waters. Today, U.S. Coast Guard regulations prohibit the light being used for maritime traffic, but the beacon is still turned on occasionally for ceremonial and maintenance purposes.
Learn more about Split Rock Lighthouse State Park
…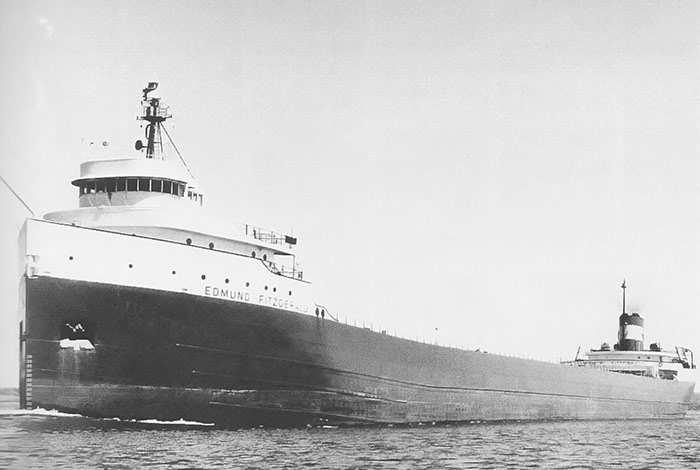 Edmund Fitzgerald crew members
McSorley, Ernest M., Master
McCarthy, John H., 1st Mate
Pratt, James A., 2nd Mate
​Armagost, Michael E., 3rd Mate
​Holl, George J., Chief Engineer
​Bindon, Edward F., 1st Asst. Engineer
Edwards, Thomas E., 2nd Asst. Engineer
Haskell, Russell G., 2nd Asst. Engineer
​Champeau, Oliver J., 3rd Asst. Engineer
Beetcher, Frederick J., Porter
​Bentsen, Thomas, Oiler
​Borgeson, Thomas D., AB Maint. Man
Church, Nolan F., Porter
​Cundy, Ransom E., Watchman
Hudson, Bruce L., Deckhand
​Kalmon, Allen G., 2nd Cook
​MacLellan, Gordon F., Wiper
Mazes, Joseph W., Spec. Maint. Man
O'Brien, Eugene W., Wheelsman
​Peckol, Karl A., Watchman
​Poviach, John J., Wheelsman
​Rafferty, Robert C., Steward
​Riippa, Paul M., Deckhand
Simmons, John D., Wheelsman
​Spengler, William J., Watchman
Thomas, Mark A., Deckhand
Walton, Ralph G., Oiler
Weiss, David E., Cadet (Deck)
Wilhelm, Blaine H., Oiler
…
Event
Edmund Fitzgerald Memorial Beacon Lighting
Thursday, November 10th, 10:00 am – 5:00 pm
Tickets included with general admission/MNHS members free
Be sure to bring a flashlight or headlamp as the grounds and trails are unlit.
The weather is unpredictable, please dress accordingly.
…
Location
3713 Split Rock Lighthouse Road
Two Harbors, MN
…
Edmund Fitzgerald They call Gitche gumee T-Shirt
…
ICYMI
The Norwegian American: Scandinavian Almond Cake—simply a delight!