Chalkfest at Arbor Lakes
Labor Day Weekend Maple Grove is a Canvas for Art during Chalkfest at Arbor Lakes!
…
Professionals and Amateurs Gather to Cover Main Street in AMAZING Art! The 6th Annual Chalkfest at Arbor Lakes presented by Minneapolis Northwest Tourism, is a free, 2-day street art festival with entertainment, food, and family fun! It features sidewalk chalk art by professionals, amateurs & art enthusiasts from across the world! Chalkfest Arbor Lakes is located on Main Street in Arbor Lakes and takes place on September 4-6, 2021. The competition will run from 10am-5pm on September 4 and 5. Chalk stays on Labor Day which will be a time for guests to view finished projects at their leisure as they stroll through Main Street.
Chalkfest will feature sidewalk chalk art by professionals, amateurs and art enthusiasts from across the world. More than 40 professional street artists will travel to Main Street Arbor Lakes in Maple Grove from around the country and featuring artists from all over the country and globe.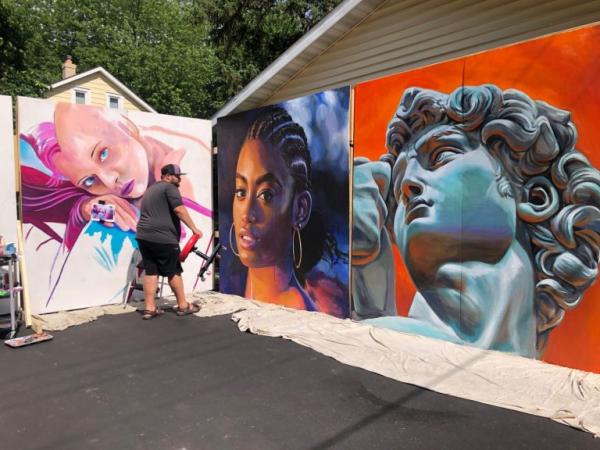 Artist-in-Residence Shawn McCann
…
Drive-through parades and events became a hit last summer, and Chalkfest also has a drive-through Mural Tour. Large 8×8 murals will be scattered throughout The Shoppes at Arbor Lakes, The Fountains at Arbor Lakes, and near Main Street, so you can view beautiful art from your car. You're also welcome to park and take photos. Your Mural Tour Map is shown below!
Main Street Arbor Lakes is a street art gallery with professional, student and amateur artists chalking their creations for you! Be sure to come watch artists chalk on September 4 & 5 and vote for your favorite professional artist to win the People's Choice Award. Public chalking areas will be provided so bring your creativity along!
All Levels and Ages Welcome! Want to try your hand at chalking? Sign up as an Emerging Artist to create art on Main Street. The Chalkfest at Arbor Lakes jury will be awarding first, second and third place ribbons each for: Emerging Artist winners under 18 years of age and over 18 years of age.
WHEN: September 4-6, 2021 (10:00 a.m.-5:00 p.m. on 9/4 & 9/5 open for viewing on 9/6)
WHERE: Main Street Arbor Lakes Elm Creek Boulevard and Main Street in Maple Grove
INFO: Winners will be announced 5 p.m. Sunday, September 5. The public is encouraged to tour art all weekend through Labor Day on September 6th.
…
Link for more information, including artist bios and photos!